Rachel Worsley | 03/11/2020
Supported by Minds at Play: NeuroWork interviewed co-founder Dwayne Fernandes and Tyran Bunt, 24, (Ty) an autistic non-binary person, at Minds at Play.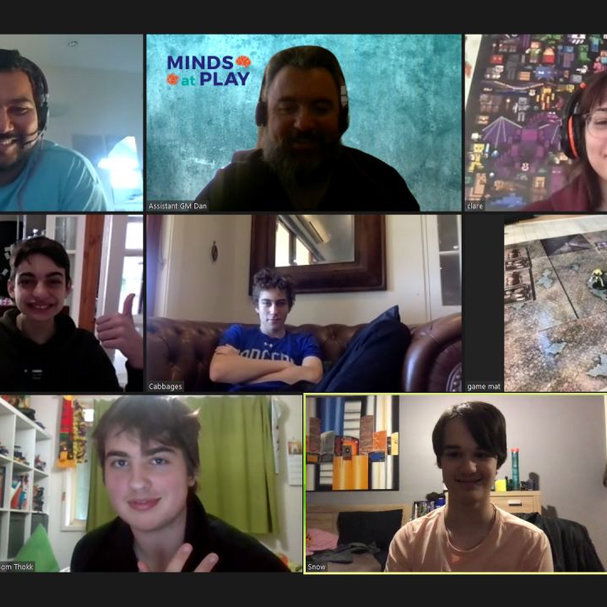 If you're obsessed with games, could you really make a living from it? NeuroWork interviewed co-founder Dwayne Fernandes and Tyran Bunt, 24, (Ty) an autistic non-binary person who acts as an assistant games master and content editor at Minds at Play, a company that aims to foster communication and social interaction through a popular role-playing game Dungeons and Dragons (D&D).


How did you start working for Minds at Play?
Ty: My main job was working with Aspect as a teacher's aide in the Hunter Valley, where I ran D&D games on site for a good year with some of the high school students. I've been playing D&D for about 3-4 years, so not very long.
They put what I did in a newsletter and I put the newsletter on Facebook. A mutual friend then messaged me and said that I've got a friend who's looking for people to join his company Minds at Play. I thought this was just crazy that they want to do this company around D&D gaming, but I applied for the job.
It was an interesting interview, because it was pretty much about running a game of D&D but to run it digitally over Zoom. I've had much more stressful job interviews, but it was very daunting because it was different. Five minutes into the game I was shaking in my feet but as soon as everyone bounced off each other, I realised this is a job interview but it's not traditional.
Dwayne: And they got hired, simple as that. They got the skills. They had never done an online session. They worked all that out for himself.


What has been your experience with communication at work? For example, there was a video of the D&D process that you were editing.
Ty: I am on the spectrum, so I need excessive details and I need some strict guidelines. I get anxious and overwhelmed quite easily. If something is not 100%, it feels like I'm not going to sleep for three days.
Dwayne: What happened was that we knew we would have lots of specific feedback on the video, but instead of drip-feeding them stuff, we said we would review it fully and come back to them. At first Ty was resistant because they wanted to know right now. But we said we will tell you exactly and explain our process about why we are taking time to tell them the details. Such as we've got a lot to do, it has to be reviewed by two other people, we have to debate what's included and we want to give you clear instructions about the next steps.


What do you love most about working with kids playing D&D?
Ty: They are amazing kids. I love their creativity, the way that they think about certain scenarios is just incredible. They were so shy and kept to themselves, but by like 2-3 games, their wings start to grow, they're bouncing off each other. And they immediately made a Discord server to talk outside of the game. They were just laughing at each other, making jokes and bouncing off me and the other GM. This is the beauty of the game.
Learn more about Minds at Play here and the aforementioned video that Ty created here.