Rachel Worsley | 03/01/2020
This Australian guide has been advised by a top employment lawyer in Australia and provides an overview of your rights.
One of the most common questions we get is about rights at work if you have a neurodiverse condition like ADHD. The general principles outlined in this guide are also broadly applicable to other neurodiverse conditions like autism and dyslexia. It is only focused on the Australian workplace.
Disclaimer: This guide contains plain English information only and has been prepared in consultation with an expert in Australian workplace law to provide an overview of your options in Australia in consultation with a lawyer. This guide should not be relied on for your unique situation, which may require legal advice. Please see our section on approaching a lawyer to find out your options.
If an employee with ADHD believes their employer (or workplace colleagues) have engaged in discrimination against them, there are four options.

Firstly, you can bring a general protections application to the Fair Work Commission (FWC). If you have ADHD, it is classified as a disability under the Disability Discrimination Act. According to Carly, the advantage of applying to the Fair Work Commission is that they deal with claims all across Australia. It can be much faster than going to a state anti-discrimination body.
You can make a claim if you believe that a manager has taken "adverse action" against you on the basis of your ADHD. You can also make a claim if you exercised a workplace right, like asking for accommodations for ADHD, which you think has been refused unfairly. If you have been dismissed and you think it is due to discrimination, you have 21 days from the date of your dismissal to lodge your application.
A member of the FWC will then hold a meeting to resolve the issue informally with you and your employer. This is known as conciliation. If the conciliation fails, you can take the claim to the Federal Court of Australia to get compensation for economic loss, general damages or breaching the Fair Work Act.

Secondly, if you are still in job, you can apply for a stop-bullying application from the FWC. Workplace bullying is when colleagues or your employer have repeatedly bullied and harassed you to the point of risking your health and safety. It may be a good, quick option if you want the conduct to stop so you can stay and work in your job. However, have a chat with a lawyer to make sure this is the right strategy for your case.

Thirdly, you could file a complaint to the Australian Human Rights Commission for discrimination under the Federal anti-discrimination legislation. You must file the complaint within six months of the discrimination having taken place. The Australian Human Rights Commission has a guide on direct discrimination and indirect discrimination. There is also a conciliation process once you put in the complaint, which is similar to option one. If unsuccessful, you can take the complaint to the Federal Court of Australia where financial compensation may be awarded.

Lastly, you could choose to make a complaint to your state based anti-discrimination board or organisation. According to Carly, anti-discrimination boards or organisations may be more equipped to handle matters about disability discrimination. who may be more responsive. Organisations and legislation will differ from state to state and you must keep an eye on any applicable cutoff dates and criteria. For applicants in NSW for example, they have 12 months to lodge their complaint compared to [insert relevant body] which is six months. Conciliation will take place following the complaint in the form of a meeting. If unsuccessful, your complaint may be heard by an expert panel or tribunal who will hand down a decision about your complaint.


In Summary
These options are to give you an overview of the options available to you should you feel you have a legitimate discrimination complaint. It is recommended that you seek legal advice before making a claim.
What if I need to Approach a Lawyer?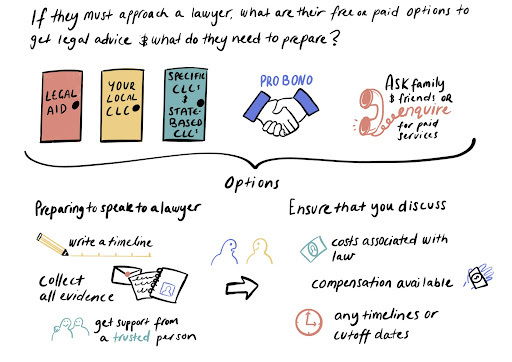 There are a number of free or paid options to access legal advice. You may wish to begin with pro-bono assistance, which you can get from Legal Aid, your local CLC, or specialised CLCs (such as Australian Centre for Disability Law), as well as state based CLCs such as the Disability Discrimination Legal service.
If you cannot access free options for legal advice, you can ask them for recommendations for paid representation. You can also ask friends and family about who they would recommend.
Every organisation is different, but you can best prepare to speak to a lawyer by taking the following steps:
Write a timeline of what has happened to you, and why you believe it is discrimination. Be specific. An example would be filling out a table that sets out a chronology of events. If you struggle with words, you can record voice memos. Even putting it in dot point form in an email can be useful. Make sure this is clear as possible and you can understand it.
Collect any evidence you have of discrimination including letters, emails and text messages. Collect any medical evidence you may have relating to the impact the discrimination had on you.
Find a trusted friend, relative or support person who can assist you with making enquiries with a lawyer if you feel it is needed. Many law firms also have online facilities for you to make an enquiry.
When making contact with a law firm, it will be useful for you to disclose your disability and ask them to make any accommodations you need to make the legal process easier for you. Make sure you discuss the costs of a lawyer, compensation available to you and any relevant timelines and cutoff dates.
Carly says: "You will feel more in control of your story and what you are dealing with."
Workplace Accommodations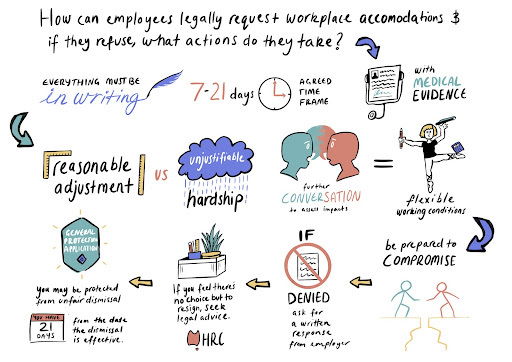 If you only need accommodations to assist you at work, you should see you GP and get a letter or medical certificate that discloses your disability and sets out in detail the reasonable adjustments you require at work.
You should put your request to your manager in writing, and ask for a response within an agreed time frame, such as within 7-21 days. If your manager has an understanding of the request and the impact it will have on your workplace, they can better assess your request. Any agreement for adjustments should be outlined in writing and understood by both the employee and employer.
If your request is denied, you should ask for a written response outlining the reasons why the adjustments cannot be made and potentially ask for a follow up meeting for your employer. Be prepared to compromise and consider a trial period for the reasonable adjustments.
If the adjustment is reasonable and it is denied, it may be in breach of Federal Disability Discrimination Act. An employer has a duty to make a reasonable adjustment for an employee with a disability, unless making the adjustment would impose an unjustifiable hardship on the employer.
You will then be eligible to make a complaint to the AHRC or relevant state based discrimination organisation, as discussed above. If you feel you are left with no choice but to resign, seek legal advice. You may be protected from unfair dismissal or eligible to make a general protections application. You have 21 days from the date of dismissal.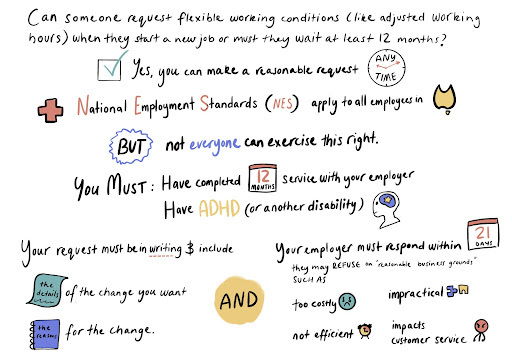 You can make a request for reasonable adjustments any time, even if you have not been with your employer for 12 months.
However, to be eligible for flexible working arrangements under the National Employment Standards (NES), you must have completed 12 months of service with your employer and have a disability (such as ADHD).
You may request a change in working arrangements from full-time to part-time, changes in work hours, changes in patterns of work and changes in location of work. Your request must be in writing. In your application you should include the specific details and reasons for the requested adjustments.
Your employer must respond within 21 days and they may refuse the request on reasonable business grounds. A non-exhaustive list of reasonable business grounds are provided by the Fair Work Act. They include:
that the arrangements would be too costly for the employer;
that there is no capacity, or it would be impractical, to change the working arrangements of other employees to accommodate the request;
that the new working arrangements requested by the employee would be likely to result in a significant loss in efficiency or productivity;
that the new working arrangements requested by the employee would be likely to have a significant negative impact on customer service.
A refusal to accommodate flexible work may amount to adverse action taken against you, may constitute workplace bullying, or may be disability discrimination, as seen above.
NeuroWork would like to thank founder and lawyer Carly Stebbing from Resolution 123 for her additional input and clarifications of the law. If you have any questions, please visit the original blog here at Resolution 123 for a more in-depth read of your options.
Want more guides to your rights at work as a neurodivergent person? Sign up for the fortnightly NeuroWork Newsletter: