Alison Eveleigh | 06/12/2019
An all-neurodivergent five-person panel at the Sydney Neurodiversity Symposium 2019 discusses whether a neurodivergent condition is a disability or superpower.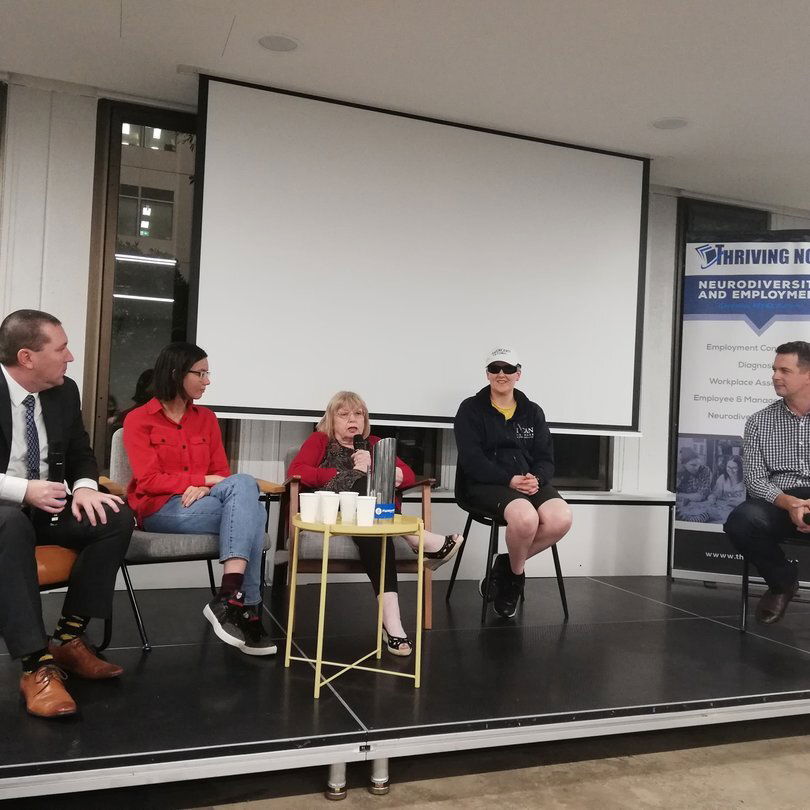 Sydney Neurodiversity Symposium 2019 Neurodivergent Panel Summary
As part of Thriving Now's Sydney Neurodiversity Symposium 2019, held at Fishburners Sydney, Thriving Now director Jay Hobbs hosted a final Q&A session on the panel session. Takeaway: The neurodiversity movement continues to make progress, but there is a long way to go. Our panel discussed some of the current problems and what is being done to solve them.Participants (pictured from left to right on the above picture):
Will Wheeler, founder of the Dyslexic Evolution
Rachel Worsley, founder and CEO of Neurodiversity Media
Judy Singer, creator of the word "neurodiversity" and writer
Penny Robinson, Ambassador for Yellow Ladybugs
Jay Hobbs, Thriving Now director


Is a neurodivergent condition a disability or a superpower?
Judy believes that the term 'superpower' is overhyped and that we should just let people be people. Rachel has referred to her ADHD as a superpower in the past, but believes it is only a superpower 'in context'. She notes that the term has been used to construct a positive media narrative and as 'inspiration porn'. While this has changed negative storytelling around Neurodiversity and brought attention to a difficult issue, like Judy she thinks we need to move back to a balanced discussion of the issues and a focus on the people involved.


Will's view of his dyslexia has changed over time. When his self-esteem was low, he saw it as a disability. While he doesn't believe it is a 'superpower' he now believes his dyslexia is something he can use to his advantage. Penny shares this view and does not view her autism as a disability. She has the confidence to bring attention to her condition when needed.


Are we winning in the engagement of corporate Australia?
Judy raised concerns about the current focus on recruiting Neurodiverse talent in the IT sector. She sees this as a cherry picking of Neurodiverse skills in a male-dominated industry, and pointed out that historically, Neurodiverse men have had greater career success than women, particularly in areas such as medicine and law. She is worried about the future of Neurodiverse woman, and would like to see more support and nurturing of the skills of Neurodiverse women.


Jay noted that it is important to celebrate the progress of the Neurodiversity movement to date, and does not want to criticize those who are involved. But he agrees that more could and should be done.


Penny drew attention to the Yellow Ladybugs, a support group dedicated to the success of autistic girls and women, which operates in schools across Australia. She believes that by building the confidence of autistic girls from a young age, they will be able to help the movement as adults.


Rachel pointed out that for Neurodiverse people who are creative, social media and the internet have made it easier to turn a passion into a business. The key to career development for Neurodiverse individuals is to play to their strengths.


Will believes that there needs to be a greater focus on career progression once employed. He would like to see more honest discourse, particularly around this point.


Judy noted that awareness of the movement continues to increase, and Rachel believes this is in part due to the popularity of Greta Thunberg. She has also noticed a more general awareness of Neurodiversity, demonstrated by the success of her article 'The Hidden Mental Health Issue No One Is Talking About', published by the Foundation for Young Australians.