Alison Eveleigh | 05/12/2019
Mike Tozer from Xceptional Testing explains why job skill matching and redesigning recruitment can create sustainable careers for autistic individuals.


Sydney Neurodiversity Symposium 2019 Presentation Summary: Mike Tozer
As part of the Thriving Now Sydney Neurodiversity Symposium 2019, held at Fishburners Sydney and hosted by Thriving Now director Jay Hobbs, CEO Mike Tozer gave a presentation about Xceptional Testing.


Takeaway: Those on the autism spectrum have many unique talents, but often struggle to articulate these strengths in a conventional interview setting. Mike Tozer believes that matching a candidate's specific skills to the right job and redesigning the traditional recruitment process are the keys to establishing sustainable careers for those on the autism spectrum.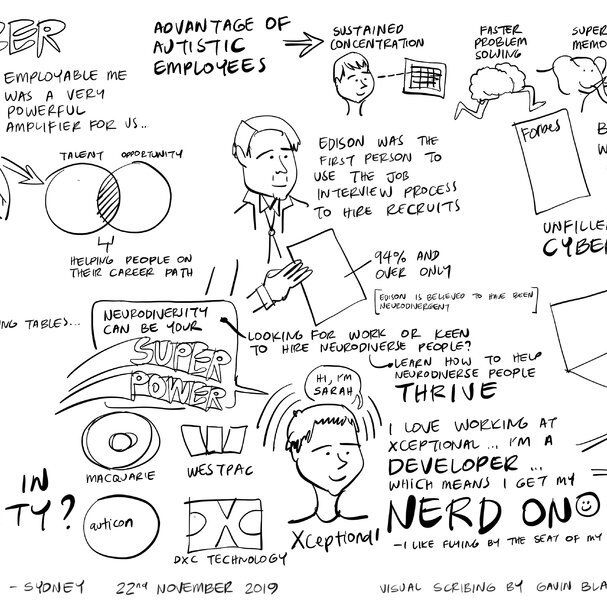 The Advantages of Employing Those on the Autism Spectrum


Mike watched his sister Sarah, who is on the autism spectrum, struggle to find a job to match her skills. For example, she was let go from a cleaning job for following direct instructions, but failing to execute her normal duties as well. She was also offered client-facing retail jobs despite the fact that she does not work well with people.


Mike believes that employing people on the autism spectrum comes with many advantages, including:

Sustained concentration and a deep focus on the problem at hand, which allows for distraction free work.
Faster problem solving in specific situations.
Employees were 48% faster and as much as 92% more productive." JP Morgan
Superior memory driven by enhanced visual recall
Strong attention to detail and ability to identify fine details and patterns.
High integrity and loyalty



Interviews can be difficult for those on the spectrum because:

Discomfort with social communications causes interview anxiety
Conventional recruitment processes favour extroverts as social interaction
Candidates may find communication challenging and can be slow to respond to questions



Mike notes that unemployment is isolating, and this causes mental health issues and increases pressure on parents and carers.


There are 125 million autistic people globally, including 350,000 in Australia. 10% of autistic people want to work in IT. Therefore there are 12.5m autistic people with an interest in, or affinity for IT jobs. Currently, the tech industry is facing a talent shortage. For example, Forbes estimates that by 2021, there will be 3.5 million unfilled positions in cybersecurity.

Xceptional's Approach
Xceptional looks to bridge this gap. It is a recruitment and placement service that connects the unique strengths of autistic people with business struggling to fill technical roles. Their recruitment process is tailored to those with autism, and involves no interviews, group dynamics or tests. Instead candidate's skills are assessed via logic games, and once a job is found, Xceptional works with the employer to ensure they have an autism-accessible workplace. Mike realises that employers need support too, to ensure that their workplaces and existing employees are prepared for the changes that come with introducing neurodiverse employees. Xceptional currently works with large-scale business including Google, Optus and Westpac.


Xceptional also employs autistic people to provide testing and quality management services to clients. During his presentation, Mike conducted a Q&A with his employee, Sarah, who spoke about her experiences working at Xceptional. Sarah is a developer who 'uses tech to solve problems'. She believes her autism providers her with strengths in the workplace, such as the ability to think creatively and 'on the fly'.


As Sarah says, she likes to 'fly by the seat of her pants', which allows her to adapt quickly regardless of the challengers thrown her way (like being asked by her boss to speak at a conference on 24 hours' notice, Mike notes). However, she can be distracted easily, particularly by loud noises and strong smells. 'I can't stand the smell of coffee' she said, 'which makes Monday morning staff meetings torture'.


Mike believes that these things do not have to impact on Sarah's work. She has invested in a good pair of noise-cancelling headphones, and the company has implemented a 'no coffee without lids' policy to stop the smell. The small changes have resulted in a friendly office environment for those on the spectrum.