Alison Eveleigh | 03/01/2020
Laura and Clay Lewis talk about how you can start a micro-business for your autistic child and help them thrive.


Sydney Neurodiversity Symposium 2019 Presentation Summary: Laura and Clay Lewis
As part of the Thriving Now Sydney Neurodiversity Symposium 2019, held at Fishburners Sydney and hosted by Thriving Now director Jay Hobbs, Laura and Clay Lewis talk about how you can start a micro-business for your autistic person.
Takeaway: When Clay, 17, couldn't get a part-time job, he started his own bin-cleaning business. The successful business has grown beyond his expectations, bringing him confidence, independence and the funds for his schoolies trip to Dubai. He and his mother would like to see their business model, which offers an alternative route to employment, rolled out in schools to help those with disabilities get a head start.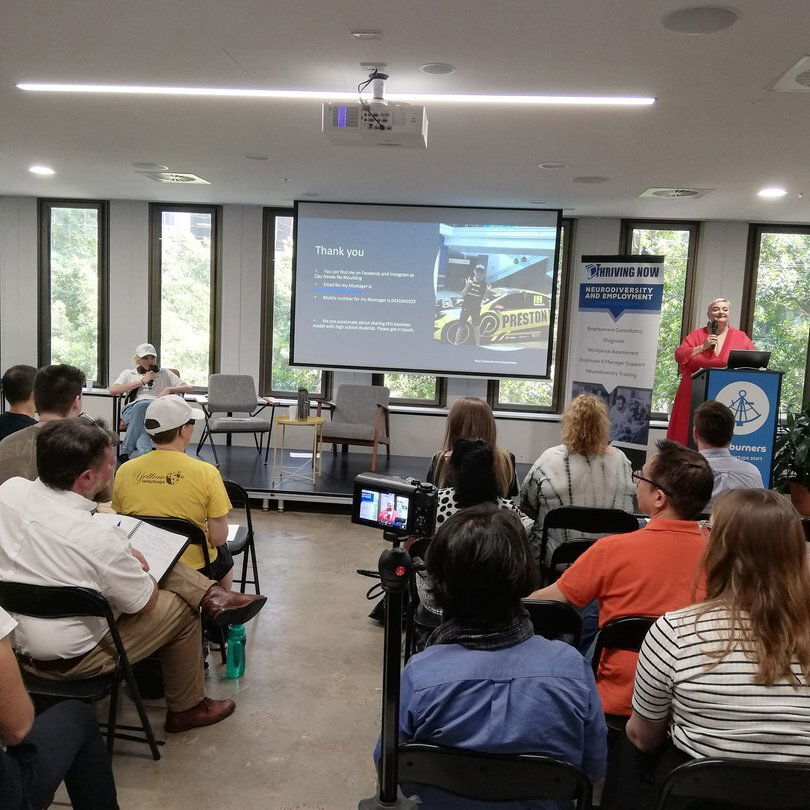 From No Job to Thriving Micro-Business
At Clay's high school graduation, the guest speaker said "a leader goes the way, knows the way and shows the way." Clay has become a business leader and wants to show other students how they too can become successful business owners.


Clay is on the autism spectrum and his parents were told he would never talk or be independent. However, Clay and his "mumager" Laura are proving the doctors wrong. Clay, who is passionate about super cars and Formula 1, has big goals for life. He wants to live on the Gold Coast, drive a Lamborghini and get married. To achieve these goals, he wanted to start building a resume while still at school. He spent two frustrating years applying for after school jobs at fast food restaurants and local takeaways. He failed the one trial he was offered. He and his supportive parents decided to brainstorm small business ideas and the bin cleaning business was born.


Many businesses fail in the first 12 months because:

No market need
Not enough capital
Not the right team
Too much competition
Bin cleaning was perfect, as there was no competition in Clay's neighbourhood and involved a very low set-up cost. Clay spent $20 on the cleaning materials and was ready to start. He began by cleaning his neighbour's bins in January 2018. His mum helped by taking bookings via Facebook and cleaning with him, allowing Clay to learn the skills without pressure or anxiety. Laura stepped back once his confidence grew.
The business soon expanded and Clay was forced to adapt as the company grew:

Clay ended up with more bookings than he could manage. He was able to hire a staff member from school, someone he trusted
He started using an app for CRM and to confirm appointments, which lead to a decrease in 'no shows'
He and his mum started using marketing tools such as Canva to build their social media following. Clay now has 7000 Facebook followers
They introduced Square, a POS system, which meant that customers didn't need to have cash on hand to pay Clay



Clay believes the key to a successful business is to surpass client expectations, including by:

Providing all necessary equipment
Cleaning the site and removing all rubbish
Leaving the property in better condition than when found
Offering a loyalty program
Clay is well known in the community. As Clay says, his is "pretty amazing", although he mum reminds him that "he is a role model not a celebrity".
Laura's advice to other parents is:

Don't place limitations on kids or worry about milestones
Always focus on your child's strengths (for example, Clay is a human compass who can remember any set of directions and has a "great personality and that shines through")
Maintain a good relationship with your child's school (Clay attended a mainstream school and a mixture of mainstream and special classes)



Clay and his mum want to share their business model with other high school students. They believe their incremental training program will help other neurodivergent children gain confidence and build their CVs before leaving school, while also managing anxiety. They believe that independence is the ultimate goal for neurodivergent people, and want to help other families achieve this.


Check out the sketchnote below for a visual summary of Clay and Laura's talk.