Alison Eveleigh | 05/12/2019
Will Wheeler discusses how his dyslexia helps him kick goals, and why he is teaching businesses to embrace dyslexic leadership.



Sydney Neurodiversity Symposium 2019 Presentation Summary: Will Wheeler

As part of the Thriving Now Sydney Neurodiversity Symposium 2019, held at Fishburners Sydney and hosted by Thriving Now director Jay Hobbs, Will Wheeler from The Dyslexic Evolution talks about how he is building the next generation of dyslexic leaders.
Takeaway: Will Wheeler credits his dyslexia with helping him achieve his goals, and is teaching businesses and individuals to embrace dyslexic leadership and unlock the strengths of dyslexic thinking.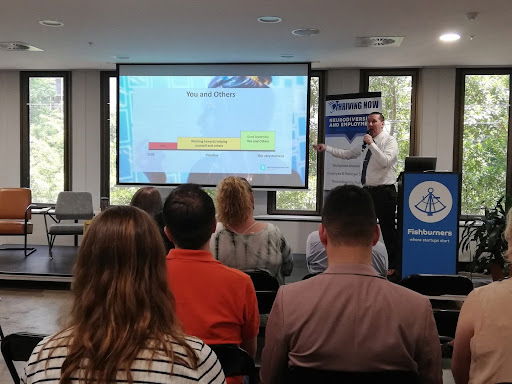 The Evolution of Will as a Dyslexic Leader
Will is the founder of The Dyslexic Evolution, a consulting and recruitment company helping dyslexic professionals and organisations.


Will struggled early in life, failing school and becoming addicted to drugs and alcohol. He was stuck, until a friend told him "You're afraid of change, you're never going to change, you are always going to be the same". This was the wake-up call he needed to change his life. He went travelling, and for the first time, he had to do things by himself. A poor traveller who couldn't afford to go out, he instead taught himself to read with a copy of 'Scar Tissue' by Red Hot Chilli Peppers frontman Anthony Kiedis. Learning to read was the catalyst for big changes in Will's life. It gave him the confidence and courage to study, and a thirst for learning. His career progressed and he was quickly promoted.


However, Will noticed gaps in the workplace for dyslexic individuals. Managers didn't understand the condition, he felt he wasn't able to prove himself and his career progression stopped. Will became lonely and depressed. Few people spoke about the condition, but to Will, it was a badge of honour. He started promoting the issues he faced as a dyslexic individual, and found that, with the support of others, his career picked up again.


He believes dyslexia is the reason for his success. Neurodivergent people are innovators, and innovation is the key to success. Therefore, he wants to help dyslexic people see the power of dyslexia, by utilising their strengths to stand out as professionals and promote innovation within their organisations.


Will has big goals for his business, including:

To be known internationally
The be a leader in the field
To do things different (and change the stigma around dyslexia)
Make millions if not billions, and spend this money on research, marketing and investing in dyslexic start-ups
Help as many people as possible



Key statistics from neurodivergent or dyslexic Professionals Recruitment and Career Development Study (compiled by Will):

70% of respondents found recruiting practices difficult to get through
48.6% of respondents felt like they had been passed over for promotion because of their struggles, and 22.9% thought that maybe they had been passed over
75.7% of respondents got frustrated when people didn't understand them
41.4% of respondents have passed up work promotions for fear of not being able to do them
95.7% of respondents would like to see organisations do more for neurodivergent or dyslexic people
91.4% of respondents would like to see managers have raining and support to help better understand neurodivergent or dyslexic employees
90% of respondents would like to see organisations have better career development pathways for Neurodiverse/dyslexic people



Strengths of Dyslexic leaders:

Understanding
Open to development
Open to different ideas
Help others to succeed
Innovation/success
Influence others, not just dyslexic people

Check out the sketchnote below for a visual summary of Will Wheeler's talk.